Patrick Craig > Other Stuff > End to End
---
The week I cycled from Land's End to John O'Groats
I did this ride on an almost brand new Giant Peloton. I took just two small rear panniers. I was very lucky in that I had no problems at all with the bike, not even a flat tyre. I didn't plan in advance how far I would cycle each day, I just took each day as it came and found somewhere to stay when I had had enough for the day.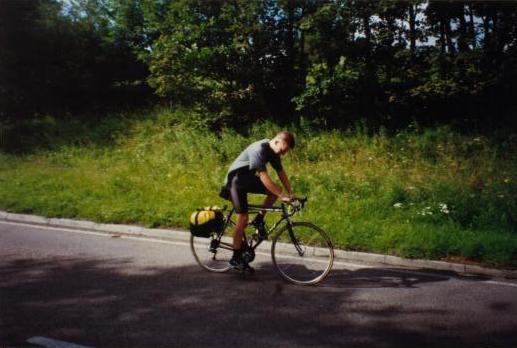 Six miles into the warm up. Only 1822 miles to go!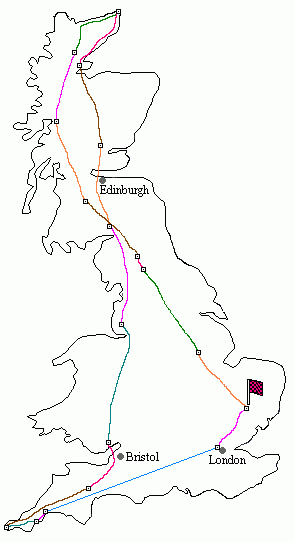 ---
The warm up
Castle Hedingham - London Paddington 50 miles
Train from Paddington to St Austell
St Austell - Boswinger Youth Hostel 20 miles.
Boswinger Youth Hostel - Land's End Youth hostel 60 miles.


---
The week
Land's End (9:20am) - Step's Bridge Youth Hostel (9:00pm) 118 miles (Av 13.9mph).

Hot day, very hilly terrain. Started after signing the End to End book in the Land's End Hotel. Stopped for a pub lunch and had a pint of cider. When I reached Dartmoor, the effects of the sun and the lunchtime drink began to take their toll. Decided to only drink in the evenings from then on.
Step's Bridge Youth Hostel (8:40am) - Monmouth Youth Hostel (7:45pm) 127 miles (Av 14.1mph).

Pleasant day, not too hilly. Still suffering from the effects of the previous day's sun in the morning. Final 10 miles along the Wye valley was a nice ride.
Monmouth Youth Hostel (8:10am) - Coaching Inn, Wigan (8:10pm) 156 miles (Av 15.3mph).

Pleasant day, hilly in the morning but got flatter and flatter. Missed a B road and ended up on the A49, not a nice road for cycling.
Coaching Inn, Wigan (8:40am) - Crown Hotel, Langholm (7:45pm) 129 miles (Av 14.7mph).

Torrential rain in the morning followed by light showers. First sight of sunshine just as I got over Shap Fell. More heavy rain from Penrith to Carlisle. Approach to Langholm similar to Monmouth. Surprised to see a brass band and people lining the street when I arrived in Langholm. Unfortunately they weren't there for me, it was some annual festival. Made finding somewhere to stay difficult.
Crown Hotel, Langholm (9:00am) - Victoria Hotel, Blairgowrie (9:00pm) 134 miles (Av 13.2mph).

Blustery winds and lots of hills, but no rain. Nearly stopped in Perth, but it was a nice evening so I carried on to Blairgowrie.
Victoria Hotel, Blairgowrie (9:00am) - Kilcoy Arms, Tor (8:15pm) 126 miles (Av 13.0mph).

The Grampians! Fine morning, rain afternoon and evening. Three big climbs - Devil's Elbow, 1 in 5 out of Cock Bridge, and Bridge of Brown. Passed a group of end to enders on mountain bikes on their 14th day.
Kilcoy Arms, Tore (8:50am) - John O'Groats (6:45pm) 115 miles (Speedo broke!).

Fairly flat (for Scotland), except around Helmsdale. Sunny with a couple of light showers. Wind mostly in the right direction. Cateye speedo died after 30 miles. John O'Groats was a bit of an anticlimax, hotel said the End to End book was "unavailable", had to make do with the one in the Youth Hostel.


---
The warm down
John O'Groats Youth Hostel - Carbisdale Youth hostel 117 miles.
Carbisdale Youth Hostel - Glencoe Bunkhouse 126 miles.
Glencoe Bunkhouse - New Lanark B&B 115 miles.
New Lanark B&B - Dufton Youth hostel 132 miles.
Dufton Youth hostel - Thwaite 27 miles.
Thwaite - Lincoln Youth Hostel 151 miles.
Lincoln Youth hostel - Castle Hedingham 125 miles.


---

Total 1828 miles in 16 days.